Fiberglass Reinforced Plastic
The usage of FRP
Fiberglass Reinforced Plastic is a composite material of (1)thermosetting resin with high water resistance and chemical resistance and (2) stiffeners that display excellent mechanical performances, such as Glass Fiber. It is a structural material that is entirely different from the existing synthetic resin products.

FRP has typically been used as building materials for bathtubs, water tanks, septic tanks, etc. It is now more widely used in the chemical industry, construction equipment, and shipbuilding thanks to its excellent corrosion resistance, chemical resistance, and lightweight mechanical strength.
Cross-sectional diagram of FRP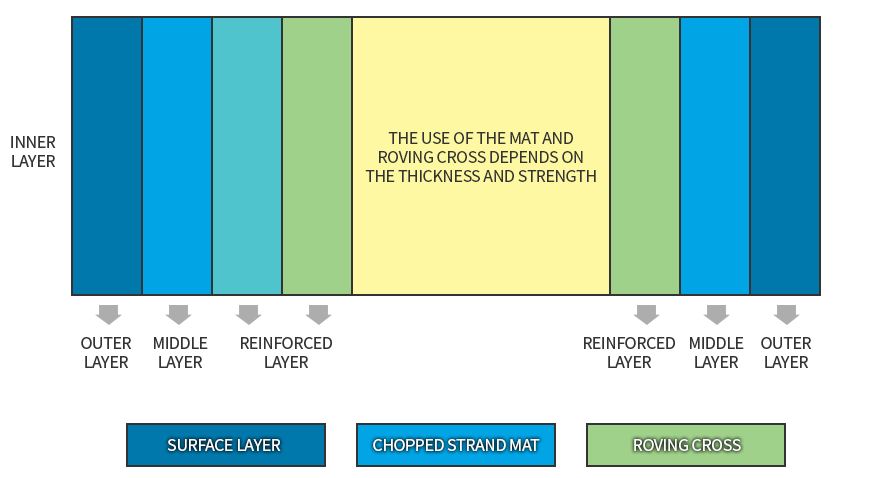 FRP features
- It is (1/4) lighter than iron and has excellent mechanical strength.
- It has excellent resistance to corrosion, acid, water, alkali, chemicals, weather, and heat. (heat resistance temperature 40℃ ~ 170℃)
- It has outstanding thermal insulation and electrical insulation capabilities. (Thermal conductivity: 1/180 of iron)
- It has no ION elution, and its construction is convenient and simple.
- It displays strong adhesion, remarkable adhesion to cement, wood, and steel.
FRP production order
01

Removal of impurities

Removal of moisture
Removal of oil
Removal of dust and sand

02

PUTTY

Construction on a curved surface
with RESIN + TARC
 

03

FIRP lamination

GLSASS FIBER(#450): 2 times
+ G/F(#570) 1 time
+ G/F(#450) Construction repeated 3 times

04

Hardening

05

Inspection