Product information
Rubber Lining
The company, with
Korea's largest vulcanization pipes
(5,400 X 12,000L), is equipped with the
most competitive
adhesiveness and durability.

One of the most critical procedures in rubber lining is the vulcanization process.

Rather than using expensive vulcanized rubber rolls, the non-vulcanized rubber rolls with a reasonable price are treated with the lining process. And by adding the most proper pressure and temperature inside the vulcanization pipe, chemical resistant facilities equipped with the outstanding adhesive ability and durability can be created.

The low-temperature vulcanized rubber and non-vulcanized rubber sheets developed by SAEKAPHEN guarantees superior durability when compared to any other rubber sheet.

Also, in the case of construction using German-made rubber (vulcanized rubber), users can carry out maintenance work on-site without having to move the equipment and complete the lining construction rapidly.
Usage
- Storage tanks (chemical resistance tanks, etc.)
- Thermal power, hydropower, nuclear power plants, piping lines
- Chemical devices and equipment: various stirring reaction equipment, continuous pickling equipment
- Other water treatment carbon filters, VENTURY, CAL ECT TANK, etc.
Storage Tank
The special features of rubber linings
Despite the remarkable advancement of the plastics industry in recent years, SAEKAPHEN KOREA RUBBER LINING is still superior to other companies in corrosion-resistant methods, for it has the following features.
Excellent chemical resistance
Outstanding adhesive strength
Economical corrosion resistance treatment
Reliable construction with high reliability
Remarkable abrasion resistance
Convenient repair of defective parts during use
RUBBER LININGS Production Process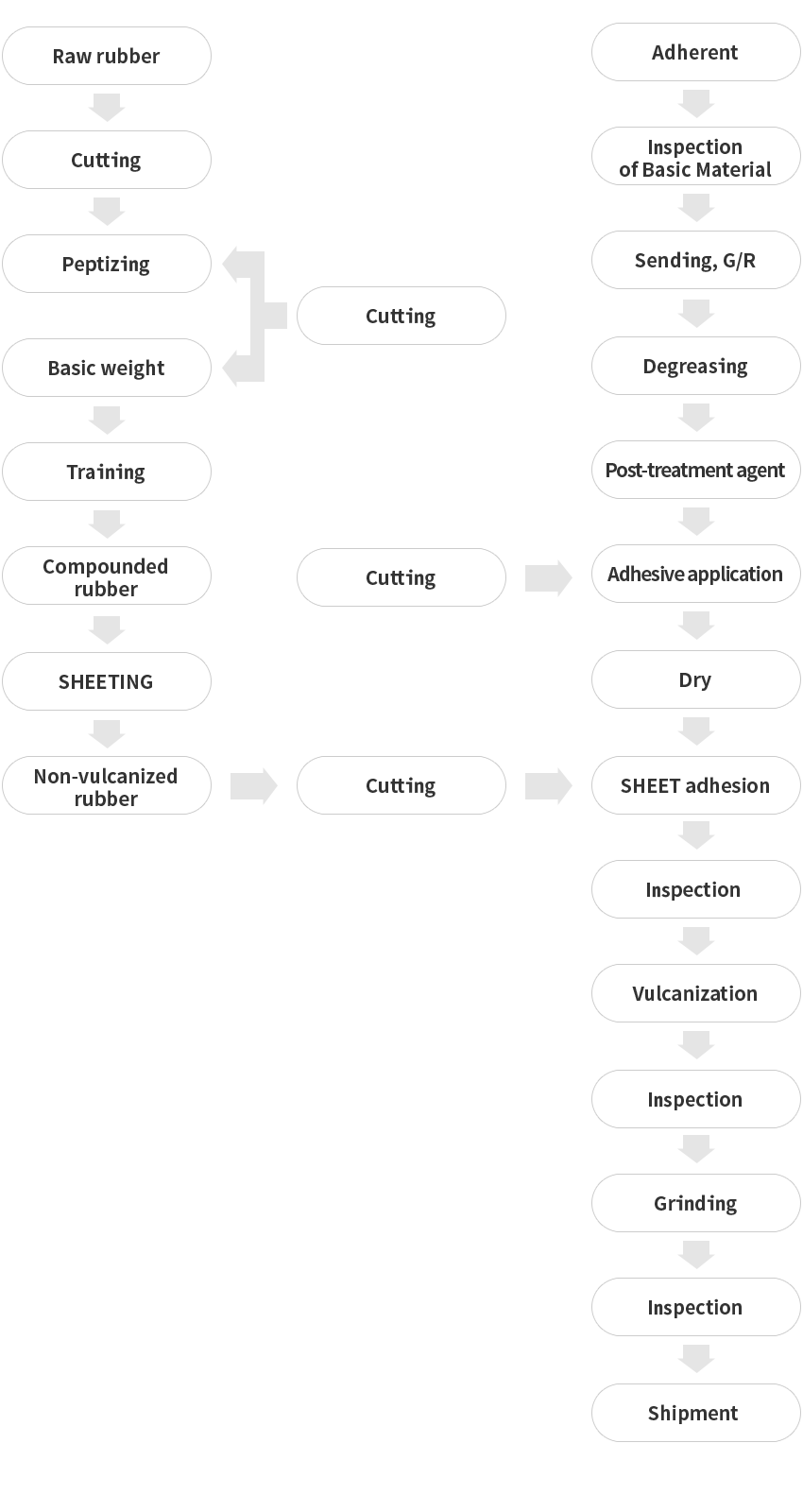 The advantages of German-made rubber linings (Construction carried out by the company)
Advantages of Rubber Linings Compared with Polymer Linings
- Prefabricated sheets (Can be cut into a suitable size and use)
- Constant thickness
- Standard thickness 3 mm, 4 mm or 6 mm (Users can choose the suitable thickness among the standard 3 mm, 4mm, 6mm)
- High permeation resistance (Low permeability)
- High abrasion resistance (Low abrasion) -> High elasticity
Primary Precured Rubber Lining Materials: The features of primary procured rubber
As precured rubber does not require separate vulcanization treatment, the surface is protected from acid immediately after construction.
Kerabutyl V
good chem.& therm. (100°C) resistance, good mech.
properties, FGD utilization phosphoric acidplants
Kerabutyl BS
standard grade wide utilizationrange in FGD
Kerabutyl VC
good resistance to hydrochloricacid
KerabutylWBC
Oxidizing media, mixedaciSAEKAPHEN KOREA, pickling plant
KerapalonHE
resistant to oxidizingmedia, hypochlorite solutions
Primary of the Lining Material
- Mixing of raw materials: Mix the rubber material and put it into the machine.
- Production of rubber sheets: Rubber sheets are produced through a fully automatic system.
Rubber Lining on Steel Substrate : The construction order using rubber lining
- For iron plates: iron plate-primer-adhesive-rubber sheet
- For concrete: Concrete-Epoxy resin-Primer-Adhesive-Rubber sheet