The Usage of Rubber Roll

Steel industry
Paper industry
Printing industry
Wood and plywood industry
Plastic industry
Non-ferrous metal industry
Textile industry
Tanning industry
Glass industry
Slat manufacturing industry
The Usage of Rubber Roll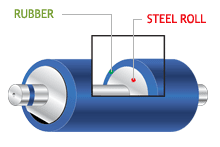 We at SAEKAPHEN KOREA RUBBER ROLL have a long history and tradition that spans 30 years. Based on our technology and experience accumulated and developed thus far, we have developed products with superb abrasion resistance and chemical resistance. Through careful management and the provision of after services, we supply excellent products at reasonable prices when customers need them.
The Production Process of Rubber Roll
The production process of SAEKAPHEN KOREA RUBBER ROLL products is implemented in the following order under strict supervision.
Design
ROLL production
Inspection / Decreasing
Cleaning
Shot Blast